aMAZE Clinical Trial
During this clinical trial, we will be comparing the effectiveness of catheter ablation using Pulmonary Vein Isolation (PVI) alone versus a combination of the LARIAT (Left Atrial Appendage Closure) procedure followed by a PVI. The goal of the study is to determine whether or not the combination of procedures is more effective for those with persistent AFib.
The Two Related Procedures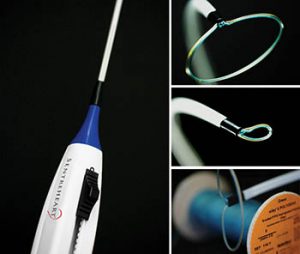 To understand this trial, we should quickly discuss the underlying condition and its treatments. AFib is the most common arrhythmia or irregular heartbeat that affects millions of Americans every year. When the upper chambers of the heart beat too quickly, the upper and lower chambers fall out of synch. Symptoms can range from mild to debilitating. Longer-term, patients with A-Fib are more likely to suffer from stroke, usually as a result of blood pooling in a part of the heart known as the Left Atrial Appendage or LAA.
The LARIAT procedure is an FDA-approved suturing system that closes off the LAA. We hypothesize that the LAA not only is one source of stroke in Afib, but also causes Afib to continue. Learn more about the LARIAT procedure.
Catheter Ablation uses targeted heat to build barriers to electrical impulses and reroute them. Abnormal electrical impulses are what cause Afib. This minimally invasive procedure uses radiofrequency waves to effectively treat AFib and other common arrhythmias. Learn more about Catheter Ablation.
Why Does This Study Matter?

Each of these procedures is individually beneficial in treating their respective disorders. However, the procedures, in combination, have not been well studied in a clinical setting. This clinical trial is meant to shed light on the effectiveness of combining the two procedures, versus performing a catheter ablation alone.
Do I Qualify?
You may. Please contact the trial administrators  to learn more about this clinical trial and the requirements for participation.